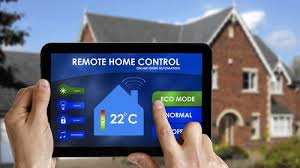 Technology has changed everyone's lives in many ways, including how we do business. The real estate field is no exception. At
Maxfield Real Estate, Steve and Carol Bush
take advantage of all the technological tools at their disposal to make sure your property gets the attention it deserves. Did you know that nearly 90 percent of people looking to buy real estate search online for properties? Steve and Carol's comprehensive strategy lists properties on social media sites such as Twitter, Facebook, and You Tube; websites such as Google, Yahoo, and Bing; and industry sites such as LuxuryRealEstate.com, NHLiving.com, Realtor.com, Homes.com, and HomesandLand.com. By saturating these online locations, they automatically put your home in front of millions of people. A possible sale is just a click away!
Steve and Carol
also find the Internet is the perfect place to showcase your home visually, and in terms of the amount of information that can be presented. Their agency has two user-friendly websites, LakesRegionHomesInfo.com and NHLakesLuxuryHomes.com, and both are packed with details. These sites contain timely buyer information, all of their property listings, and offer advanced tools to aid in client searches. Steve and Carol also invite clients to use their interactive map to search by geographic area--they know the perfect home is waiting for you in the Lakes Region! Their dedicated mobile phone site allows you to view their mobile website from your iPhone, smart phone or tablet if you are on the road, or on the lake. Clients who are unable to visit the Lakes Region in person can still enjoy a complete showing of properties that interest them.
Steve and Carol
create a customized virtual tour for every listing. This tour is viewable on their website and their You Tube channel. Simply visit
www.youtube.com
or search LakesRegionHomesInfo.com on YouTube. Thanks to today's technology, buying--or selling--a home has never been easier!